December 2017
With this 11th newsletter we like to inform you about Diwa's education projects in Pakistan. This year we continued with the support of the Center for Skills Training in Francisabad. It is a center that is raised together with local inhabitants of Francisabad. Meanwhile the team in Pakistan consists of a small group of motivated and skilled staff members and teachers. As Diwa Foundation we support the activities of the local team to raise up their own official registered Pakistani Foundation in Pakistan. In this newsletter, you can read more about this and about the activities of the Centre for Skills Training. The training for beautician and for tailoring are a success. The courses are popular by many girls in and around Francisabad. The girls learn helpful skills and meanwhile the center is a place to meet each other. The population of Francisabad is mostly Christian and belong therefore to a minority in Pakistan where 97% of the population is Muslim. Many people in Francisabad are poor and have most of the time low paid job. The girls who belong to this families have difficult lives. Shahlla, project coordinator of Diwa Foundation, talked with them. Read the stories of the students. In the new year, we would like to continue with our trainings for tailors and beauticians. In consultation with the team in Francisabad, we want to upgrade a number of sewing machines and invest in a large sewing table. Furthermore, we want to invest in extra material for the training for beauticians. In addition, we want to use the network of the vocational training center for supporting activities in the field of health and hygiene. We can use your help well! At the end of this year we would like to thank you for your sympathy and your support for our work in Pakistan. Jan Dirk Schouten, secretary
Update activities Center for Skills Training Francisabad
By Shahlla Gill
Registration of Stichting in Pakistan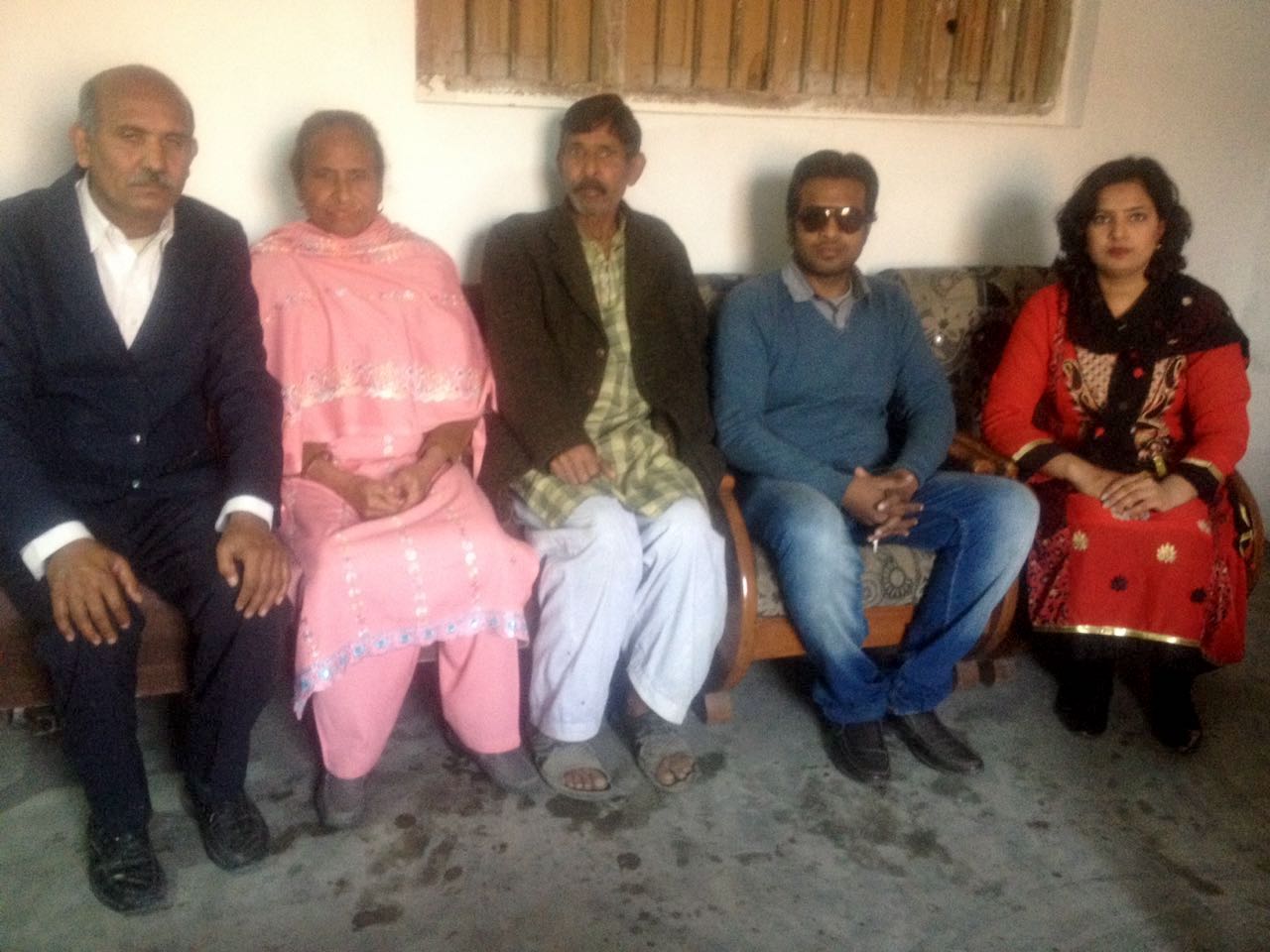 Stichting Diwa is busy with the registration of an official local foundation, "Diwa Welfare Foundation" in Pakistan. The registration process is almost ready. This will be an independent foundation raised up with members of the local community of Francisabad. The people from the regional Social Welfare Office in Gujranwala have visited the project during registration process and were enthusiastic about the program of Diwa Foundation.
Skills training project update
The Skills training project has a remarkable success since it started. Girls and women are very much interested and motivated to learn skills. At this moment we have a second batch for tailoring and beautician course. During the first batch this year, 22 girls completed their training for beautician or tailor. At this moment 35 girls take part in the second batch of this year.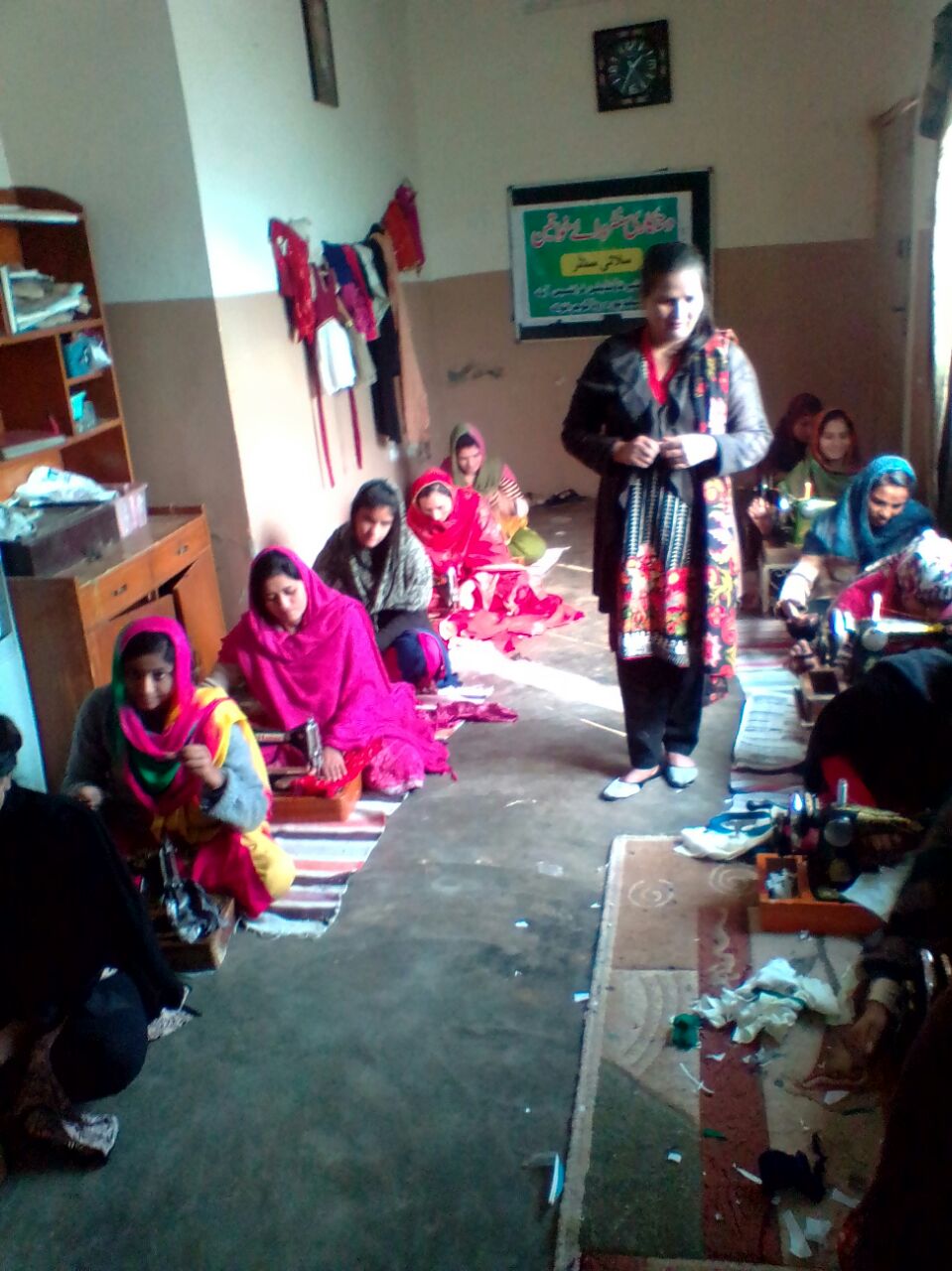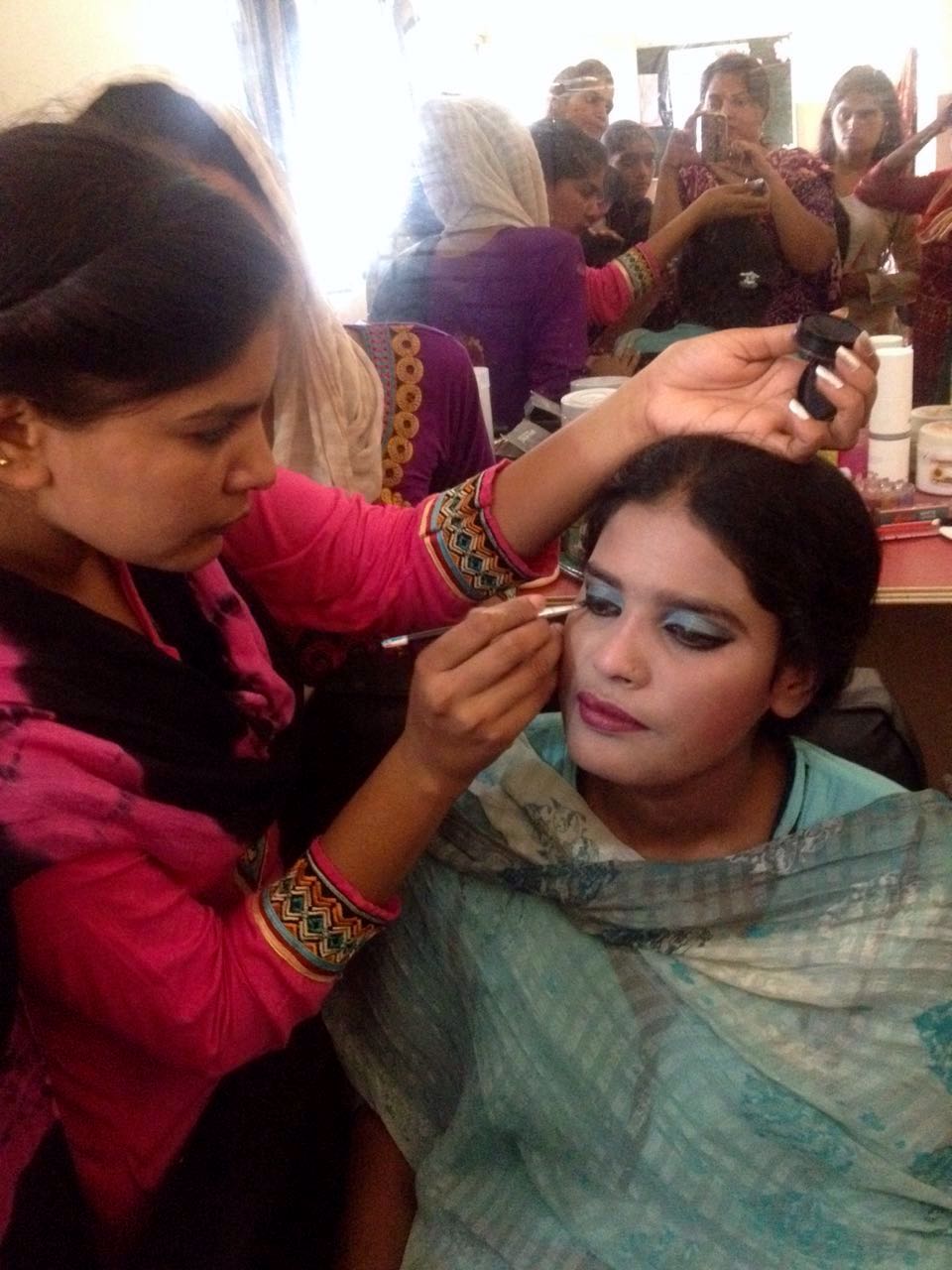 At first, each course had a duration of three months. By implementation of previous courses, we realized that three months duration is not enough to learn in a good way. Therefore, we increase the course duration to six months. Then students have more chance to learn in detail and practice more during the lessons. The first three months they are learning more basics, such as knowledge of the sewing machine, stitching and cutting. The next three months they learn more advanced skills such as designing and stitching the final products. Together with this course, Diwa Foundation also offers workshops on book keeping, sales and marketing. A professional trainer has been arranged to give lessons. The purpose of these workshops is to equip the students with the basic skills that they might need to set up their own business in a professional way.
Action: Easter market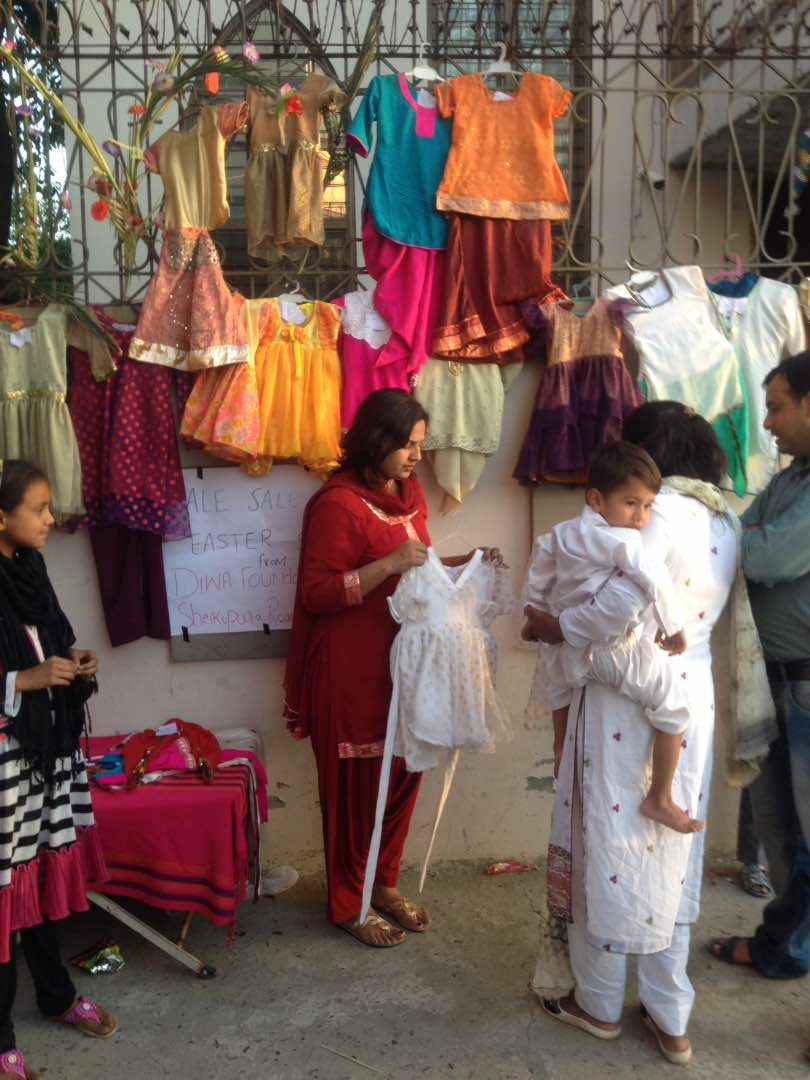 Project leaders in Pakistan have organized a Easter market a week before Easter in a local church. The work of students was displayed for sale. This action was a practical exercise for the students to learn about sales and marketing, to set a price for the product and calculate the profit and loss. The sale was also based on a fair trade rule, if a dress is sold then part of profit goes to the students who make that dress.
Awareness Raising Campaign
In the month of March the project team has also organized an awareness raising campaign in Francisabad on health and hygiene. They conducted meetings with people to share information on malaria prevention, polio vaccination, and cleanliness of the houses and streets.
Adult Literacy
The Diwa Foundation also offers an adult literacy course for women and men. At the moment, we have only a group of women and girls. In this group, also very young girls are coming to learn reading and writing. They are about 10-14 years old. They are quite interested in learning but their parents are not sending them to formal schools. Therefore, this is an opportunity for them to get equipped with the basic education of reading and writing. In 2018, we want to organize another campaign together with a medical expert. It will also be possible to receive a free consultation and basic medication for women and children in particular.
Stories from students
The situation in which many girls have to live in Pakistan is often difficult for us to imagine. Below are the stories of two girls who participate in the courses tailor and beauty specialist. The names are fictitious because of the privacy.
Saima Saleem, 20 years old, has six brothers and sisters. Her father is a farm worker and her mother is a house wife. She passed the primary school, but she could not continue her education because her parents did not allow her to go to school for further education. For them girls education is not important. She should stay at home and learn housekeeping. Samina heard from her neighbours about the tailoring course and with permission of her parents she joined the tailoring course to learn some practical skills. According to her she can use these skills to help her parents financially and even after her marriage this will be very helpful for her to support her family. Gushbacht Nazir, 21 years old, is one of the students of the Beautician Course. She passed the primary school but could not join the secondary school due to financial problems. Her parents could not afford her school expenditures. She heard about this course from her church. She likes this course very much. After completion of this course she has a plan to start her own beauty parlour in Francisabad. She was always dreaming of learning beautician skills but there was no opportunity in her neighbourhood. And to learn somewhere else she need to travel far, which costs a lot of money. According to her this training center is a good opportunity for her and for other local girls to fulfil their dreams.