by Jan Dirk Schouten
In this sixth newsletter we will inform you about the developments of Diwa's Brick Kiln Workers Education Project as well as our donor and awareness activities in The Netherlands.
This year is dedicated to improving the existing schools for the brick kiln workers and building four class rooms as well as toilets. Some schools are no more than a stable that once sheltered cows. Often these schools are too small, so that only a limited number of children can attend school, whereas many more children would also want to go. By improving the schools and by increasing their capacity, we hope we can add to the durability of the schools, so that eventually they can function more independently.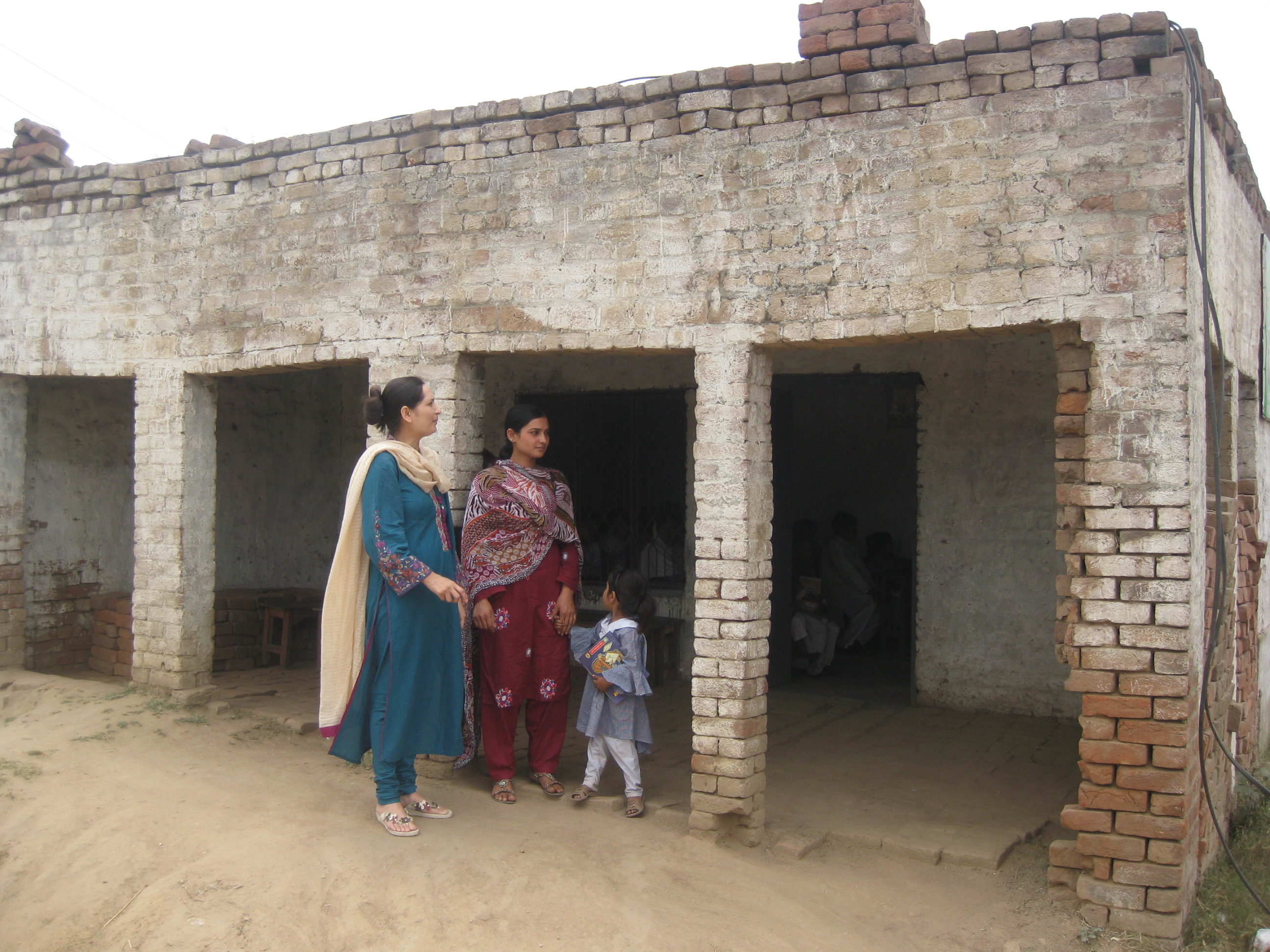 Again we do this in cooperation with "Wilde Ganzen". "Wilde Ganzen" supports small initiatives in development with their expertise. For every Euro donated to the project, "Wilde Ganzen" adds 30 cents.
In their "project of the week" for a whole week "Wilde Ganzen" will pay attention to the Brick Kiln Workers Project on television! Broadcast is planned on Saturday 24 August, Ned 2 around 11:29 a.m.; repeated on Sunday 25 August, Ned 2, around 11:59 a.m.
One of the travellers who, together with travel agency Avanta, visited Pakistan (see our previous newsletter), appears to have special filming and editing capabilities. She made a film that was shown on a special Diwa film evening on 23 May 2013 in Rijssen. You can read more about this in the story by Margreet Oberink.
Last month our council member Shahlla visited her family and the Brick Kiln Workers Project in a tense Pakistan. Her story can be read below in "Visit report Pakistan — April 2013".
In "Faces behind Diwa" Arno Louws introduces himself. Arno is responsible for our sponsor policy. Because of his work in Africa, he is experienced in the field of development aid.
Do not forget to read our agenda with all our upcoming exciting and nice activities!
Visit report Pakistan — April 2013
by Shahlla Gill
On 6 April 2013, early in the morning, Gijs and I arrived at Lahore airport, where my brother was waiting for us. The weather was quite warmer than we had expected. First we visited the PSTA office in Lahore and then departed for Gujranwala, which is about 70 km from Lahore. After an hour's drive we reached to my parent's house, where all the family members were desperately waiting for us; especially for Gijs. Amazingly Gijs greeted them with a nice smile and sat on the lap of everybody. He was very happy to see for real the people who he only used to see on Skype. I was also very happy to see my family after two and half year. We had a great time with our family.
Francisabad attack
A week before our arrival there was a big tension in Gujranwala. There was a fight between Muslim and Christian groups in Francisabad, a Christian colony in Gujranwala. One of the Imams from nearby village made a fight with a Christian boy because of playing loud music in his tuk-tuk. The imam was travelling in his tuk-tuk and asked the boy to turn off the music. The boy turned off the music, but after some time he started again. The imam asked him to stop the tuk-tuk, descended and started beating the boy. After that the imam went to his village and said to people that the Christian boy had blasphemed. The people did not wait for confirmation, but they went to Francisabad and attacked the Christians, destroying all the shops belonging to the Christian people. They also tried to burn the church as well, but the Christians defended the church and the Muslims ran away. The imam went to the police station for a blaspheming report against the Christian boy, but the police was hesitant to write a report.
Yje Christian people were very angry after this action and they also attacked Muslims shops in Francisabad. High officials of the police became involved in this matter and they solved this problem with dialogues. Now peace committees are formed in Francisabad and in the neighbouring village. But the police warned the Christian people to make their security more tight, because the other group is not to be trusted; they have connections with the Taliban.
Elections 2013
On 11 May 2013 there were elections in Pakistan. Everywhere in the country election campaign was on peck. There was big competition between two parties: the Pakistan Muslim League Nawaz group (PML-N) and the Tehrik-e-Insaaf party from Imran Khan, a former cricketer. Young people are very enthusiastic and active with Imran Khan. They believe in change and he wants a change in the country. They hope Imran Khan can lead the country with new and positive prospectives. But on 11 May PML-N was the winning party. Surprising! This is as it always is in Pakistani politics. You never know who will be the winner until the end. But anyhow, PML-N maybe also can do some nice things for the country and its people. Last time when PML-N was in control they did a good job in infrastructure, and also Pakistan became atomic power during their time. Only religious matters are more sensitive during PML-N times. All big mishaps with Christians, including burning people and their houses, happened during the regime of this party. I hope and pray that this time Christian people are safe. God bless the people of Pakistan!
School visit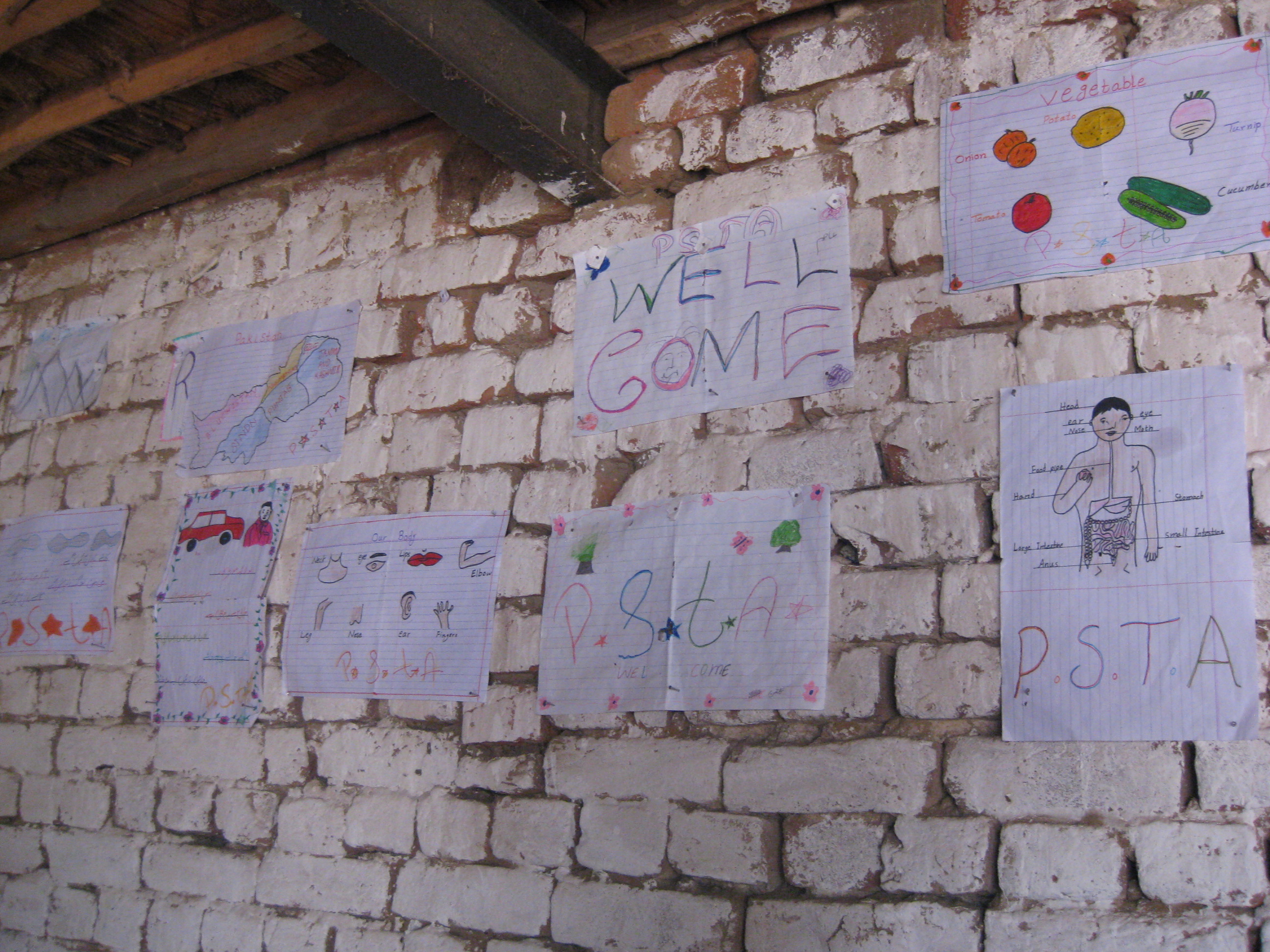 The first week of May I visited a few brick kiln schools in Gujranwala. I was glad to see the improvements. Children were neat, wearing proper uniforms and sitting at desks. They decorated their one room school/classroom with nice drawings which they made themselves. The children were very enthusiastic about the study. They like to come to school. When I entered a school, the children stood up and said "welcome and good afternoon". They sung poems for me in Urdu and in English. One of the girl students asked to go on a school trip. They wanted to go to a big park in the city. In the coming weeks PSTA is going to organise a visit together with other schools.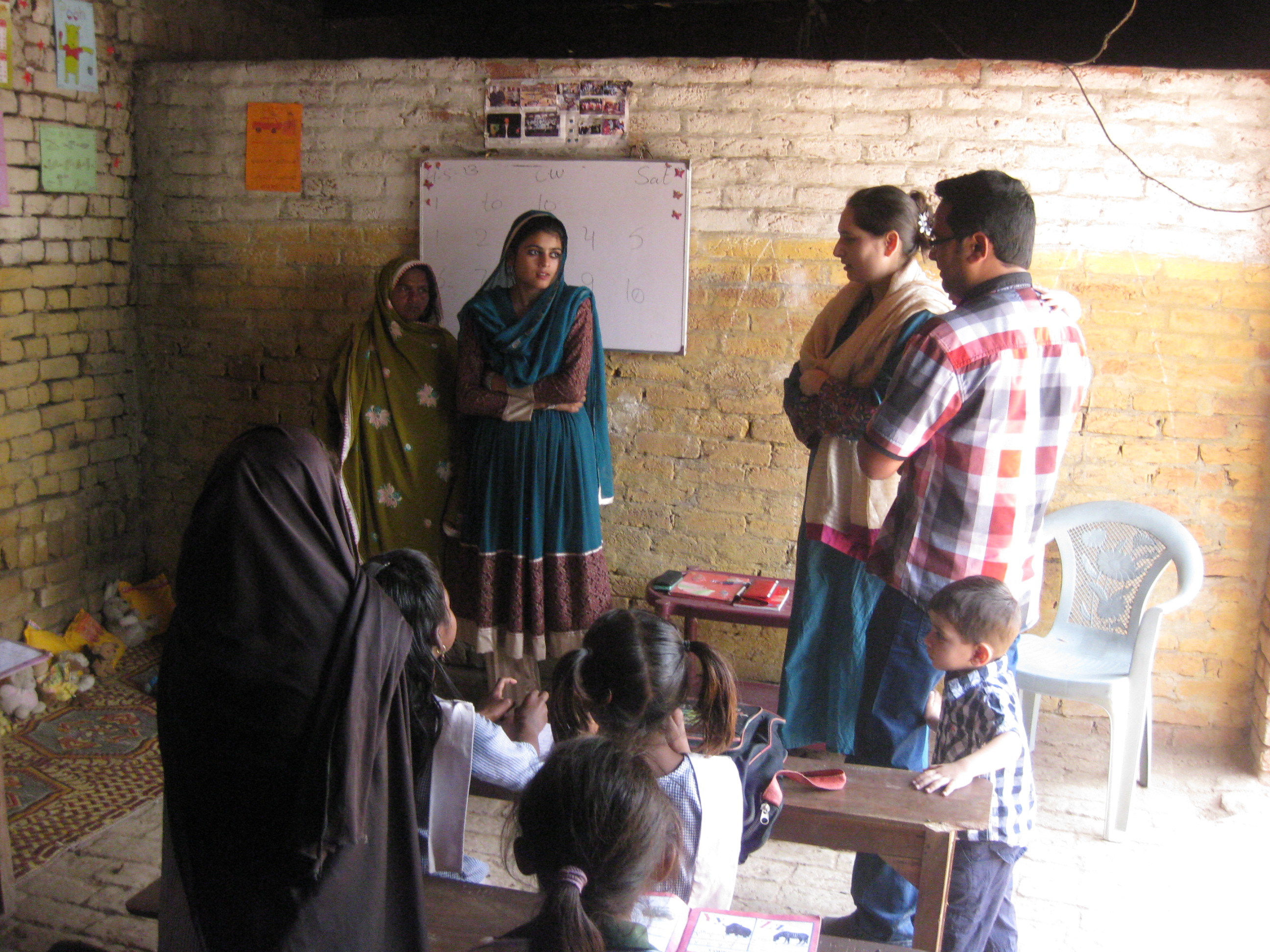 I visited those schools where classrooms and toilets are going to be constructed very soon. This year, with the support of "Wilde Ganzen", Diwa will finance the re-construction of four schools with toilets. These schools are very small and the walls and roofs are in very bad condition. Water drips from the roof on rainy days. In some places children sit in a cow stall without door, while flies and bees are flying around.
Teachers are satisfied and receiving regular training from PSTA. Most of the teachers are female in the Gujranwala area. One of the teachers told me that they are also motivating people to send their children to schools. The area coordinator is doing regular monitoring and facilitates the teachers and parents committee meetings.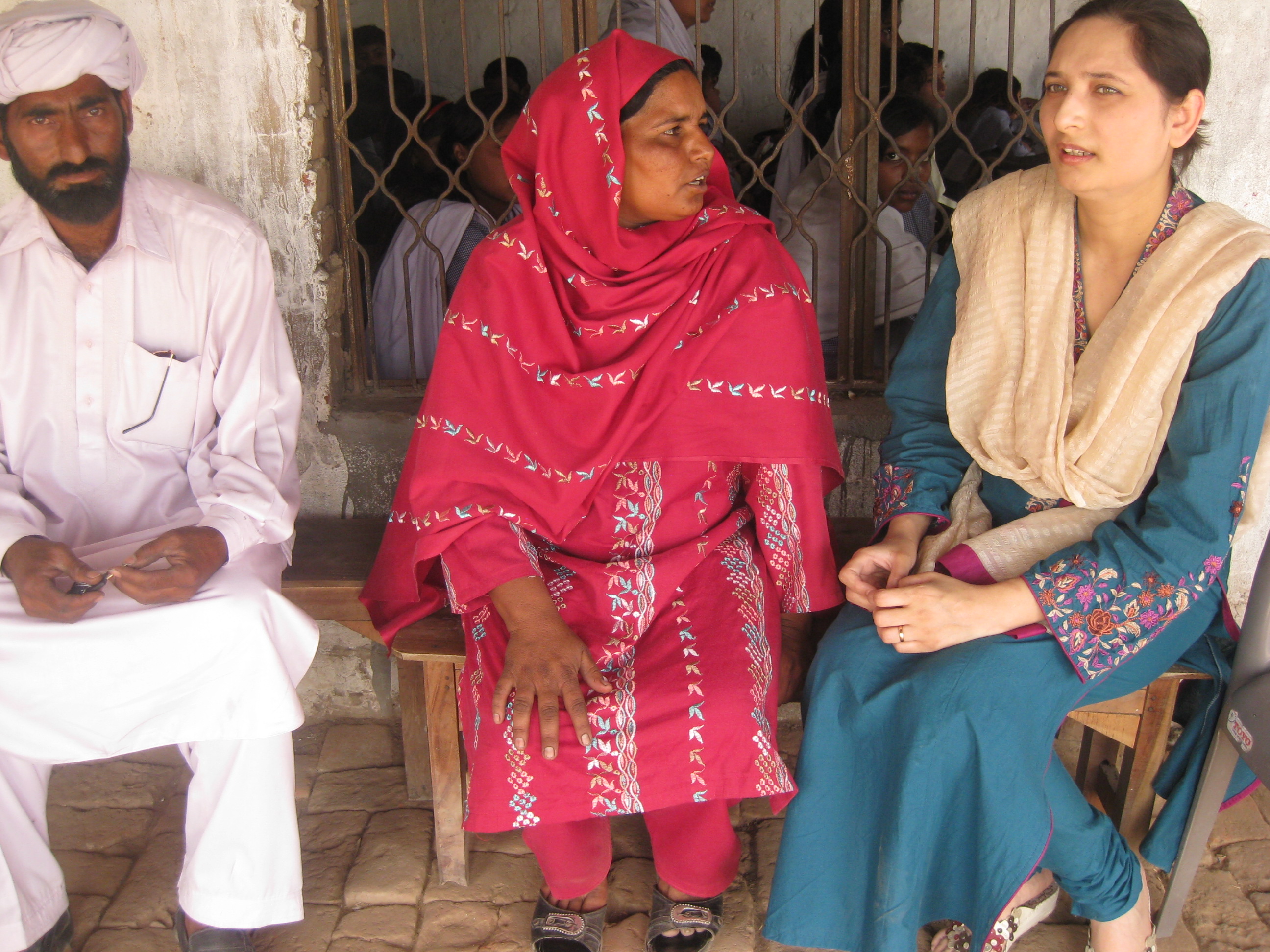 Parents committees are very active in the area. I met members of one of the parents committees, a man and a woman. They are very much concerned about school matters, such as opening and closing times of the school, regular checks if the teacher is present at school, giving reports to the PSTA supervisor about school activities. They are happy to have these schools on the brick kilns.
In some places there are difficulties to implement the project. The president of the brick kiln owners association is a problematic and difficult man. He is reluctant to open a school on his brick kiln. According to him, education has no meaning for brick kiln workers, and by sending children in the school he will destroy his labour. PSTA had several meetings with him but he is not agreed to have a school on his brick kiln. On the positive side of this is that other members of the brick kiln association are motivated and have schools on their brick kilns for their workers. But brick kiln owners also do not like to combine schools for 3-4 brick kilns. They have their own boundaries and even children are not allowed to go to other brick kilns, which maybe is about a 5-10 minute walk. So at this moment there are 10 small schools on 10 brick kilns in the Rahwali area.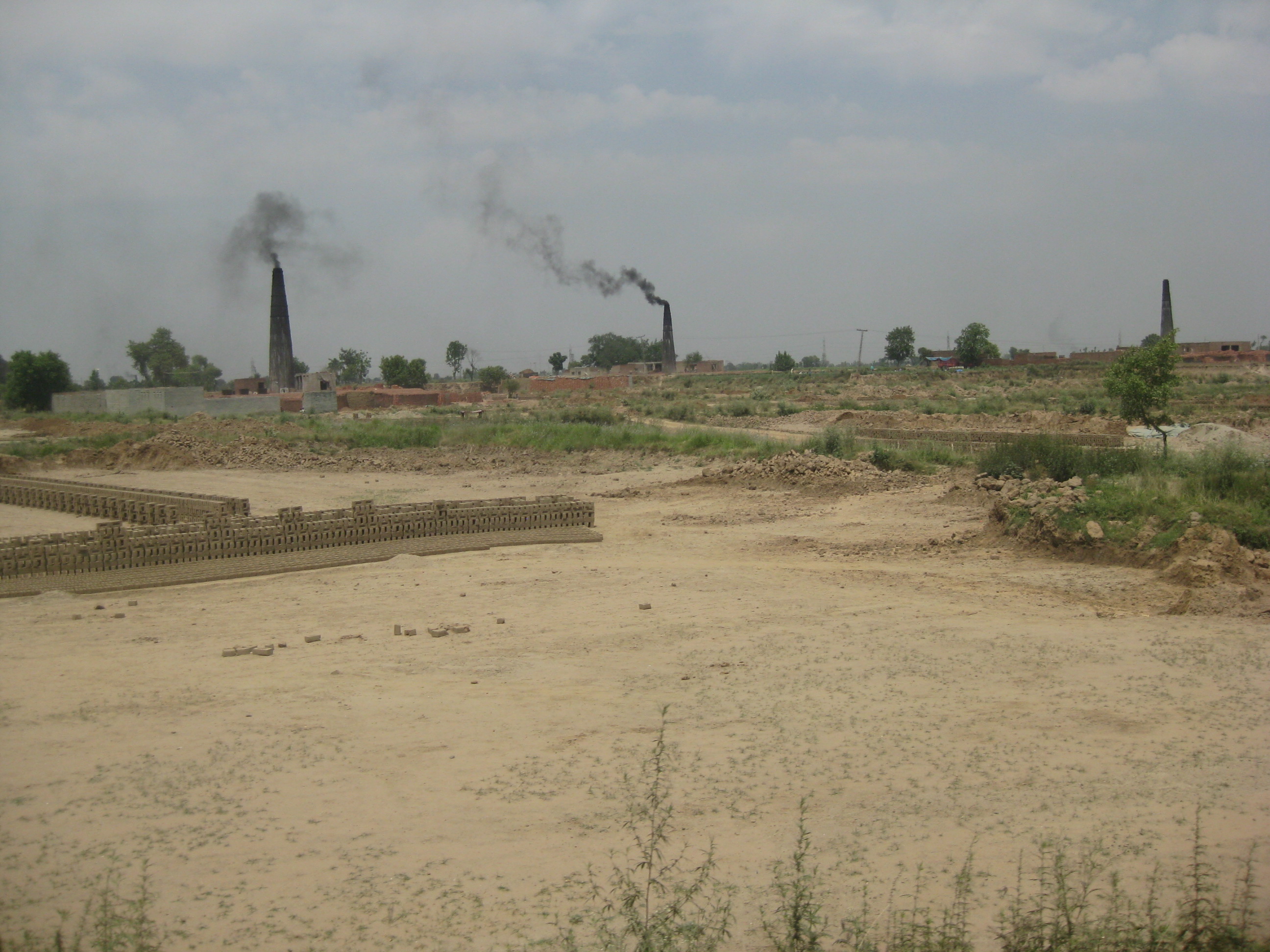 Rahwali is our project area in Gujranwala. About every other kilometer there is a brick kiln. The need for education is very high. Still there are many children who are not attending the schools and are only helping their parents making bricks. PSTA staff told me that they are putting a lot of effort in trying to motivate the people to send their children to the schools. Diwa wants to finance this project a few more years, until the project is self-sustained. We hope that in the coming years more and more children can benefit from this project.
Film evening Rijssen
We, Anneke and Margreet, travellers from Avanta, have organised a film evening about our very special trip through Pakistan.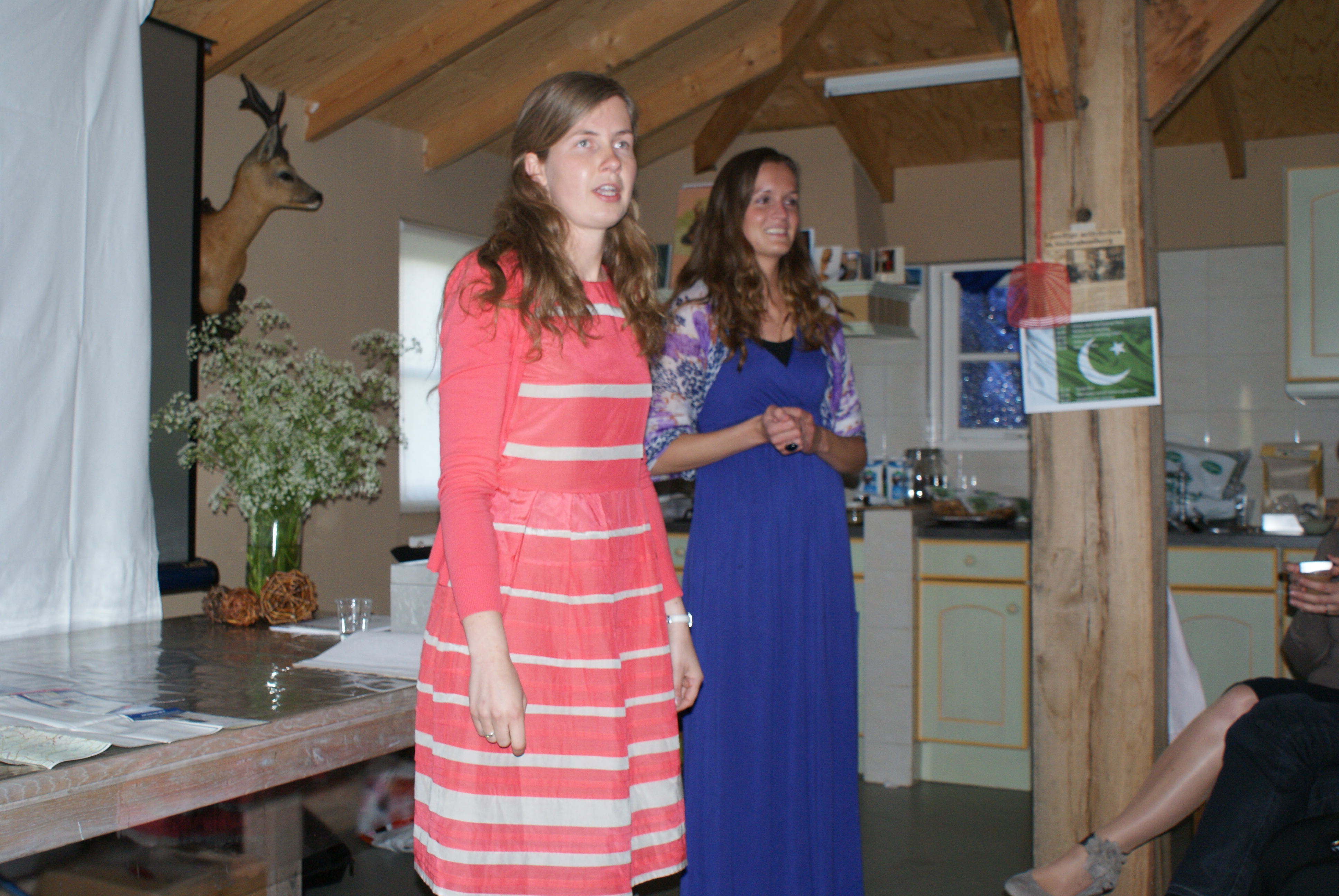 The idea to collect money for the Diwa Foundation arose during the project visit to the working areas of Diwa. It was good to see with our own eyes how the children receive free education. Diwa Foundation makes this possible. We wanted to share our experiences with our families, friends, colleagues, acquaintances and others. After our invitation about 50 people decided to visit this gathering.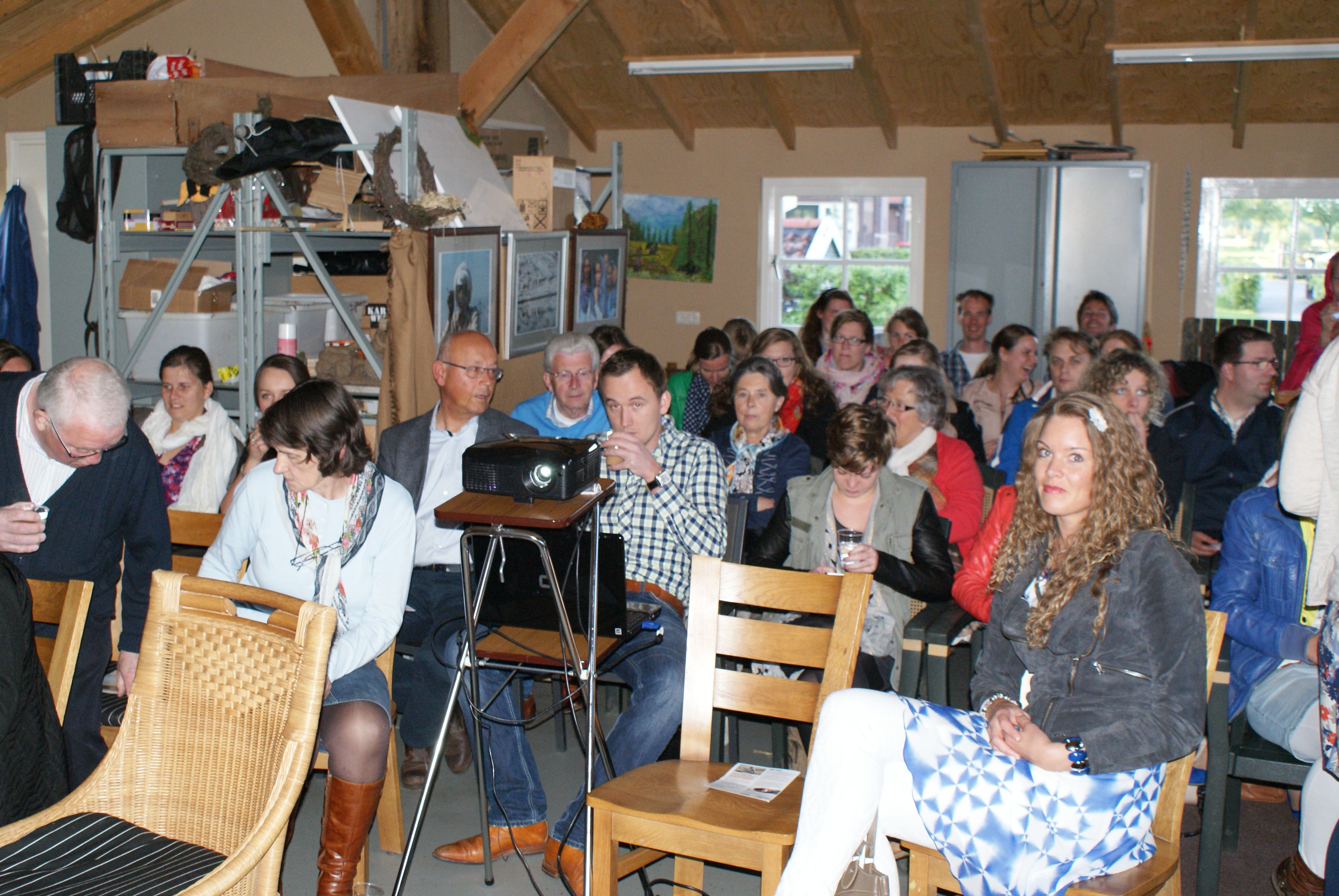 There was much attention for the presentation about the work of Diwa and for the video of the trip. The Pakistani tea and snacks were also much appreciated. During the evening there was also a collection. The total amount raised was no less than 380 Euro. Also nice to know that this amount will be increased with 30 % by "Wilde Ganzen". The total will therefore in fact be 495 Euro.
We had many positive reactions on this cosy Diwa evening. One of them: "Very impressive, the journey, but especially also the children at the brick kilns... Fantastic that they can go to school now!"
The face behind Diwa (4)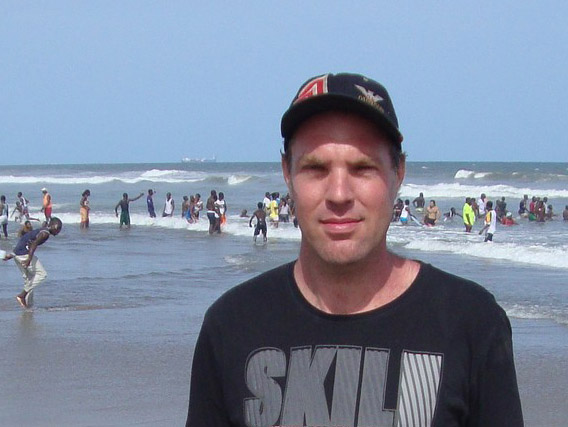 Hello, my name is Arno Louws. I am involved in Diwa Foundation since it started. In the past I have lived and worked in several African countries. At this moment I work in the The Netherlands for an organisation involved in developmental assistance.
I like being in Africa. Life there is shaped different than life in The Netherlands, and because of this difference I experience life more conscious. Also life in Africa is less mechanised and less modern than in The Netherlands. Therefore I experience more vitality in Africa. On the other hand, there is more poverty in Africa. One of the reasons for this is, that in many African countries the elite pulls power and economical means to themselves, and thus away from large parts of the population.
Apart from the political tension, concentration of power and money are also important factors in Pakistan. This is notably problematic when people from certain minorities are used and abused to the profit of others.
On the one hand it is about accepting life as it is and of the shortages that belong to it, but on the other hand it is also good to try to decrease poverty and injustice. This can be done, for example, by providing access to education to those who did not have access. Also you want to more than improve the situation of some people while on the same time the social situation continues. I hope that eventually education and awareness can be elements in a structural change within society. I am glad that Diwa can contribute to this in its own way.
Activities agenda
Note the following activities in your agenda:
Workshop flute making/ Luther Wedding
date: Sunday 7 July 2013
time: the service starts at 10:30 a.m. with at the end the Luther Wedding (when weather is fine in the garden of the Andreas Church).
place: Andreas Curch, Heer Vrankestraat 51, 3036 LB Rotterdam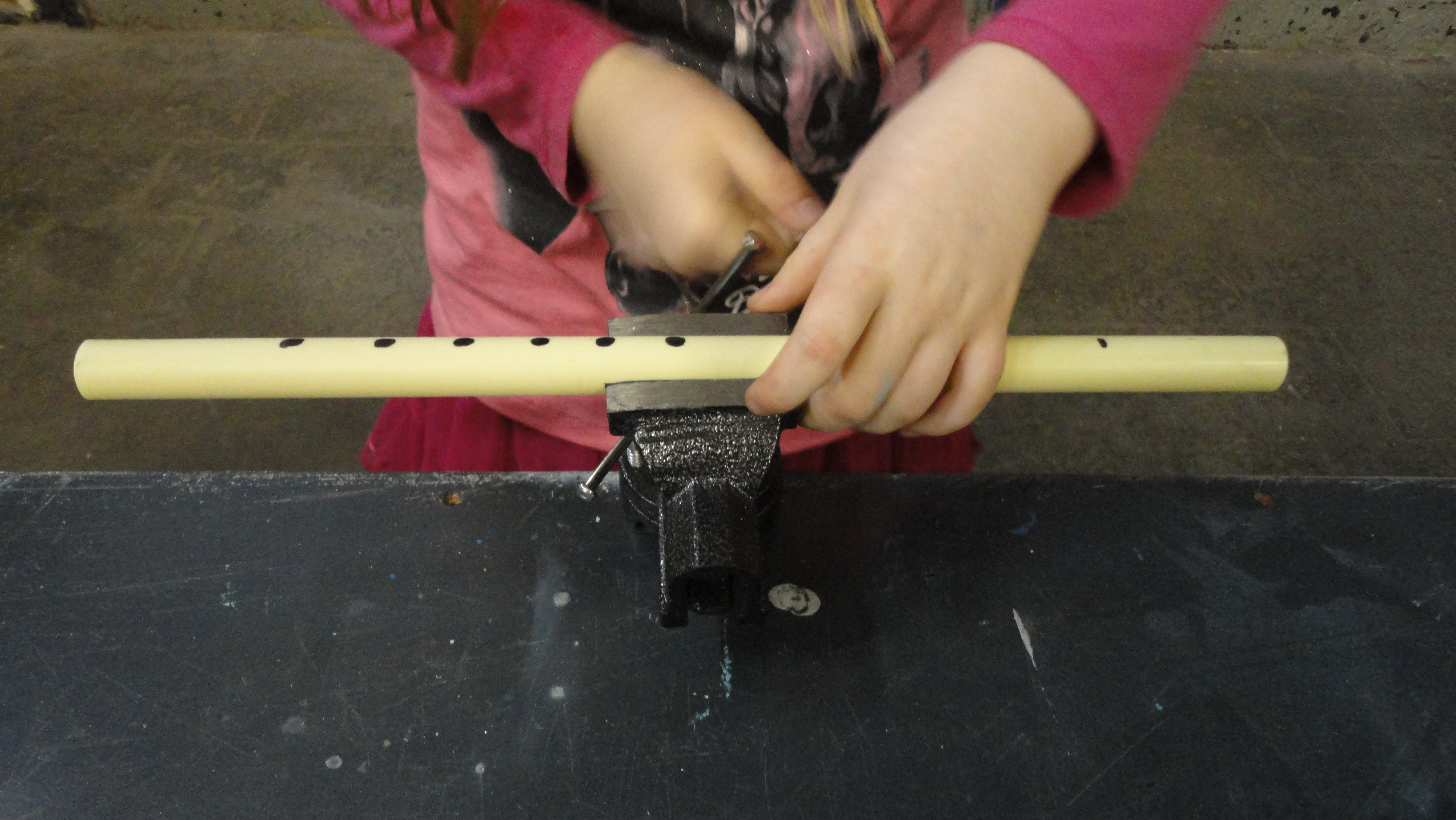 During the closing of the season of the Lutheran congregation in Rotterdam Diwa organises a workshop flute building for children )and all that still feel young!) under supervision of flute maker and musician Alon Treitel. Alon came to The Netherlands to study bansuri (Indian bamboo flute) in Rotterdam, and later learned how to make bansuris in India.
Further there are other nice activities during the Luther Wedding, organised by members of the Lutheran church. There are home-made snacks, Austrian and French wine tasting, as well as painting the ceiling for children under supervision of an artist.
You are welcome to celebrate the end of the Lutheran Season and these activities together with us!
Cricket Match Netherlands – Pakistan/ Witte de With Festival
date: Saturday 14 September 2013
time: from 2:00 p.m. till about 8:00 p.m.
place: the sport square, next to the Scots International Church, Schiedamsevest 121, Rotterdam
(attention! Because of the Witte de With Festival it will be very busy in town. It is recommended to travel by public transport or to park your car just outside the city centre.)
Together with the Scots International Church Diwa organises a cricket match during the Witte de With Festival on Saturday 14 September. We challenge everybody with a sporty attitude to join the match! There is also plenty to do for all not so sporty persons.
During and after the match the dholki, a Pakistani drum, wil be played and there are nice Pakistani snacks and drinks. In the nearby Witte de Withstraat, the cultural centre of Rotterdam, there are also a lot to do and experience, see http://festivalwww.nl/
In case of rain there will be an alternative program inside, in the lower hall of the Scots Church, with among others a course in Bhangra (Pakistani Dance).
Preferably let us know beforehand when you are going to join the cricket match via info@stichtingdiwa.nl or phone 06 412 846 89
Pear picking in Brabant
date: zaterdag 5 October 2013
time: from 11:00 a.m.
place: Wijk en Aalburg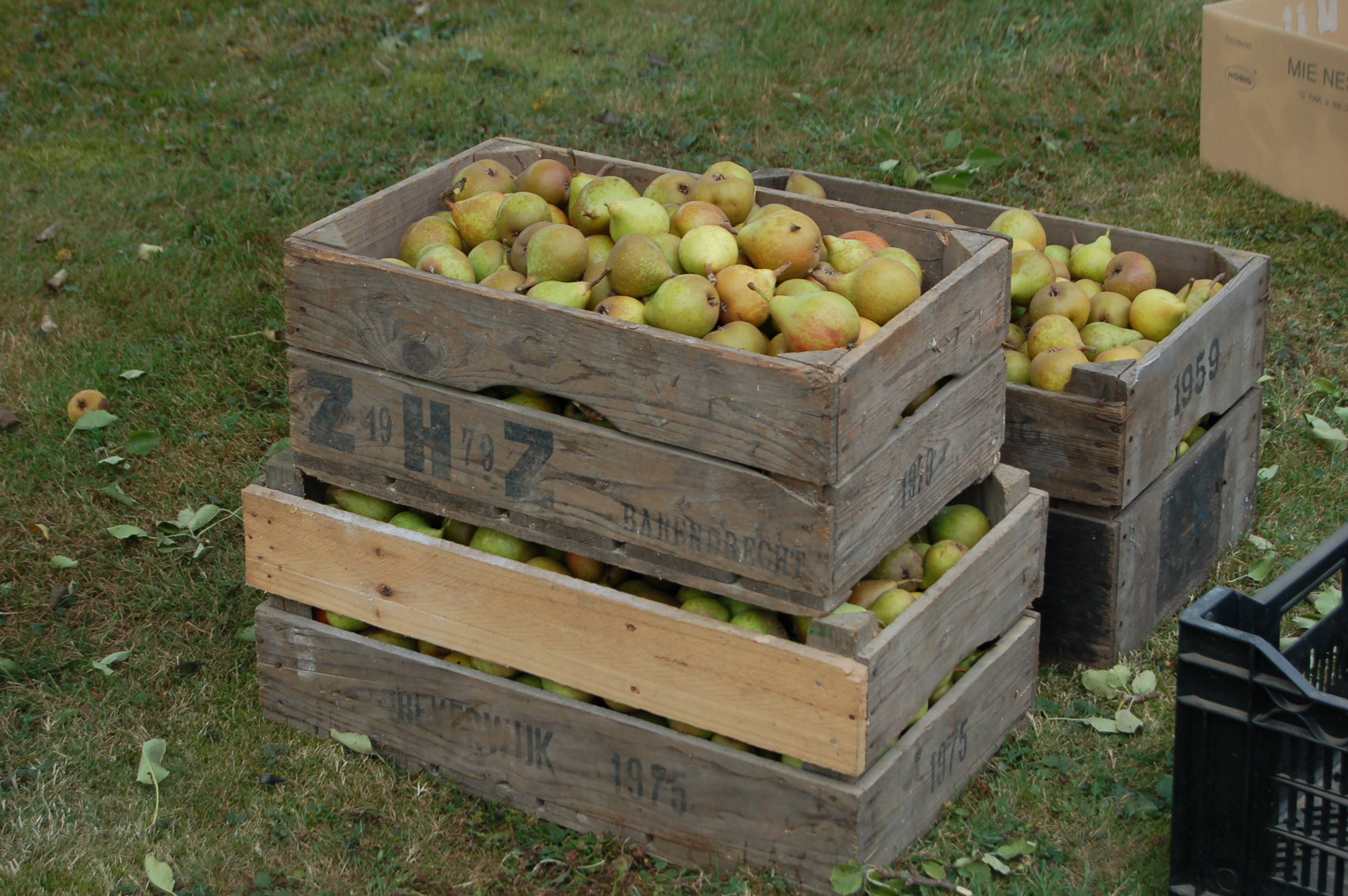 Come picking pears in beautiful rural Wijk en Aalburg with the Van Vulpen family. From 11:00 p.m. we will be welcomed with home-made pear cakes and tea or coffee (Marleen van Vulpen-Hogendoorn's cake alone is already worth a detour!). Na de perenpluk, rond een uur of vijf gaat de barbecue aan. Een deel van de opbrengst van de perenpluk zal ten dienste komen van het Steenbakkersproject van Stichting Diwa.
Please let us know when you are coming! Via info@stichtingdiwa.nl or phone 06 412 846 89
Indian and Pakistani cook workshop – part 2
Get to know the secrets of Indian and Pakistani cuisine! The course will again be given by the enthusiastic Indian cook Grace Timmerman. This cook workshop is a follow up of the first course, but is also recommended as a separate workshop!
The profits of this evening will be for Diwa's Brick Kiln Workers Project.
Time and place for this workshop are not yet known, but will be announced in an e-mail after the Summer.
contact details Stichting Diwa:
Stichting Diwa
Coolhaven 148a
3024 AL Rotterdam
telephone: +31 (0)6 412 846 89
kvk: 244 82441
bank account: 157 078 493
IBAN code: NL79 RABO 0157 0784 93
SWIFT/BIC code: RABONL2U
Stichting Diwa has an ANBI status. Your gifts are deducible from taxes.
e-mail: info@stichtingdiwa.nl
website: www.stichtingdiwa.nl