December 2018
With this newsletter we like to inform you about Diwa's Skills training project activitiesand like to share with you our plans for 2019. We would also like to introduce to you a member of our Pakistan Team. Read his personal story at the end of this Newsletter.
We, our team and our students in Francisabad, Pakistan, would like to thank you for your support this year and wish you a happy 2019.
Jan Dirk Schouten,
Secretary, Stichting Diwa
Ongoing activities Skills Training Center
By Shahlla Gill

Stichting Diwa now is more than two years busy implementing a skills training program in Francisabad, Gujranwala. In these years the program became a remarkable success. In the beginning students from Francisabad were enrolled for our training courses. But now there are also girls who join training courses coming from the surroundings, about 3-4 kilometer away from Francisabad.
Renovation, new machines and equipment

A lot of things have been done during this year. Beginning this year the class rooms were upgraded. The floors of the class rooms were replaced with tiles of local marble and walls and roof were painted. The setup of the beauty parlor was improved with new furniture and a big mirror. For the tailoring course the sewing machines have been upgraded with motors so the students can work with their hands free. Also a first fully automatic sewing machine was purchased to give knowledge to the students of new, modern technology. Also a steel cupboard was purchased for sewing machines storage. The tailoring class room was furnished with tables, chairs and an ironing table.
Gents Cloths

We are busy extending and deepening our skills training program. In the month of October 2018, we started a new tailoring course focused on making gents cloths. In Pakistan, gents clothes are normally made by men, but the girls who are attending our training course are very motivated and enthusiastic to learn how to make gents cloaths as well. Thereforer we hired a professional male teacher for this course.

The students, but also our skilled teacher in female clothes will learn how to make gents clothes. The duration of this course is 3 months. After completion of this training the female teacher will be able to give lessons to our students both for ladies and for gents cloths. By the end of this course, the students will be able to make a T-shirt, a suit dress and a pant. Also every student makes a personal portfolio, showing their learned skills.
Plans for 2019
We want to improve our lesson program by offering the students guidance by strengthening their skills by making personal development plans. Our teachers will monitor every single student.
Next year we will organize awareness raising meetings with women groups in our training center. Once every two months about 10-15 women will attend the workshop meetings. For every meeting we have different topics related to health and hygiene. We will invite relevant resource persons to talk on the different subjects.
We also have plans to organize a medical camp in Francisabad. The people of Francisabad can get a free medical check-up. This check-up will be organized together with a medical doctor and a nurse. Treatment will be provided for simple regular deseases. In case of other complications we can help by referring them to local hospitals.
The story of Pastor Akram, Diwa Foundation Pakistan
Interviewed and written by Raheel Gill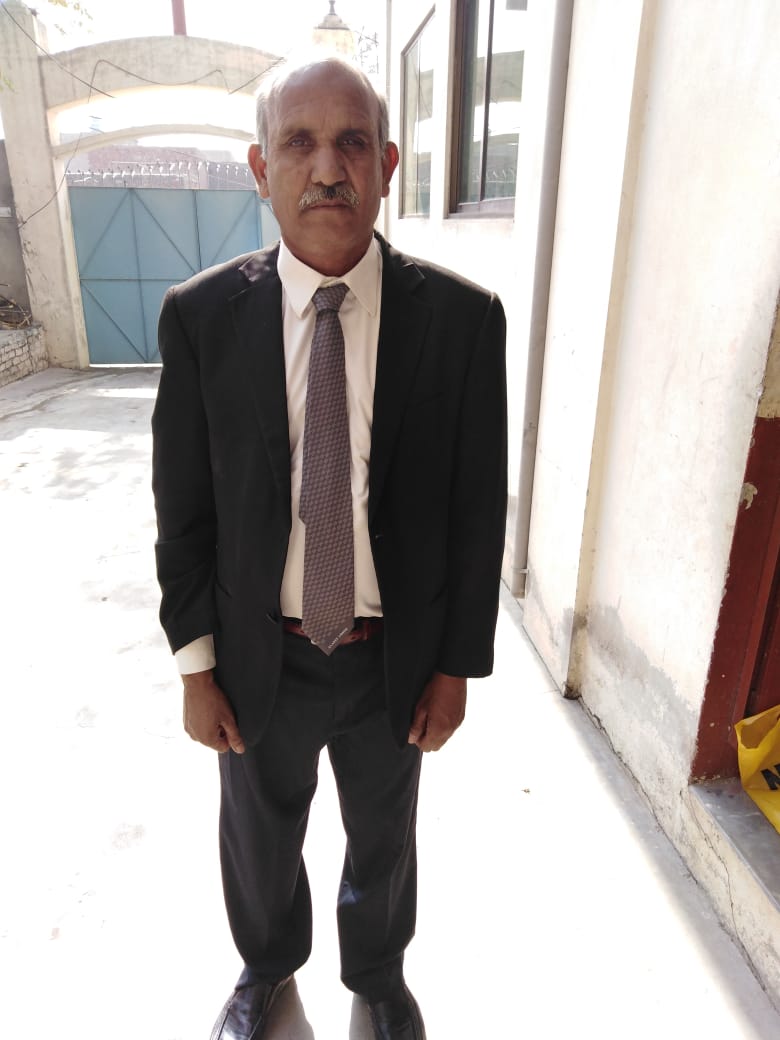 My name is Pastor Akram Masih. I am 54 years old. I am a full-time pastor in Kings Ways Presbyterian Church Francisabad. I am also serving my duties as vice president of Diwa Foundation. After I finished my school I did different short term jobs such as security guard, teacher, and even I worked on daily wage bases just to earn my bread.
In 1990 I got married with Musarat. God gave us three sons and two daughters. All the children are getting education. Our oldest daughter Nimra and son Hanook are also doing part time teaching besides their study.
In 1996 I was working as a supervisor in a company where I met a Korean pastor and his wife. I got inspired by them and got interested in evangelical work. I resigned my job and started as an evangelist as a part of their church team. I did my pastoral study from 2008 till 2011 in Faisalabad. My ordination was in 2011 and since then I am working as a pastor in Kings Ways Church Francisabad.
In our Church there are more than 25 families who have a church membership. Besides the Sunday service we are also organizing different activities such as Sunday school, youth programs, women meetings and prayer meetings at every Wednesday evening. We are also running a primary school, on self help basis, without external support.
One day I was invited in a Diwa Foundation meeting. I really liked the work they were doing and showed my interest in working together with the team. I accepted the offer for the post of Vice president. Diwa foundation take a good step for women empowerment. In our society women have less chance to develop themselves. Diwa has provided a platform to women via the Vocational Skills Training Center in Francisabad. After getting skills they are more able to be independent and help their families in financial support.
My duties in Diwa include awareness raising about skills training and its benefits, door to door visits for motivating people and, once in a month after Sunday service, inform people about project activities. Parents are often not willing to send their daughter out of house. As a team we are working hard to motivate them to send their daughters for skills education. As a pastor and as a member of Diwa foundation I am fulfilling my duties for the welfare of our Christian community in Francisabad.